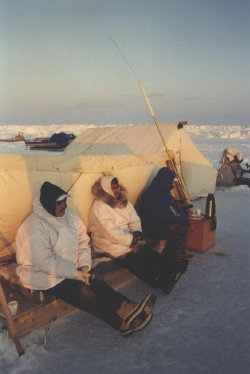 The brink of the shorefast sea ice cut the water like the edge of a swimming pool. A white canvas tent, several snowmachines and big wooden sleds, and a sealskin umiaq whale boat waited like poolside furniture on the blue-white surface of the ice. Gentle puffs rippled the open water a foot or two below, except near the edge, where a fragile skin of new ice stilled the surface. Sun in the north reached from the far side of the lead, backlighting the water and picking out the imperfections in this clear, newborn ice with a contrast of yellow-orange and royal blue. This was after on May 6, 2002, three miles offshore from the NAPA auto parts store in Barrow, Alaska.

A hushed voice urged me on toward the edge.
"Come on, there's a fox. They follow the polar bears."
The fox ran past the camp, beyond the ice edge, danced as it ran, upon that new skin of ice floating on the indigo water. An hour or two earlier there had been no ice there at all and now it looked no thicker than a crust of bread. The fox used tiny, rapid steps. Its feet disappeared in motion. Its back arched high and its tail pulled up tall, as if strings were helping suspend it on that insubstantial film of hardened water. Somehow it knew how much weight a brand new sheen of ice could hold, and knew how to calibrate each step within that limit. The Iñupiaq whalers of Oliver Leavitt Crew watched and muttered with admiration as the fox pranced out of sight. All were experienced hunters, even the young ones, but they were impressed by this skill. This animal knew something valuable, something they would like to know, something that could help them survive.
---